OK

If you are looking for "Aroi" Italian cuisine around Pattaya this is for you:
?
www.bellaitaliapattaya.com www.italian-restaurant-pattaya.com

Bella Italia

Italian restaurant and pizzeria with fired wood oven

Ristorante italiano con vero forno a legna per la pizza

Italian English
Home page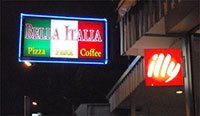 Pizzeria and restaurant with Italian kitchen and Thai food also available in the center of Pattaya. Second Road in front of the Soi 6. Italian pizza is served from a wood burning pizza oven. Many tables in aircon environment or non aircon. Nice view of the pizza man at work and, of course, Illy caffe'! The kitchen is open from 15:30 till 23:30.
©2011 info@bellaitaliapattaya.com Bella Italia Restaurant 78/13 M. 9 Sai 2 Pattaya Chonburi 20260 ::Admin::